CVMR® is a privately held, metal refining technology provider that is also engaged in mining and refining of its own mineral resources in 18 different countries. The company was established in 1986, with its head office and R & D Centre in Toronto, Canada.
The patented AMBS Technology:
Copper recovery breakthrough with raw sea water, brackish & waste water
The Air-Metabisulfite Process (AMBS) is a patented breakthrough technology that can produce copper concentrates from copper or copper-gold ores using salt or brackish water. The new process, an air-metabisulfite treatment, does not require lime or cyanide. This innovation, will help reduce the mining industry's use of fresh water, which is significant because many new mineral deposits are located in arid climates where fresh water is limited.
This technology is now being used successfully by Antofagasta Minerals at its Esperanza copper mine in Chile's Atacama Desert using raw sea water. Also Barrick uses this technology at their Jabal Sayid copper mine in Saudi Arabia, which is a joint venture between Barrick and Ma'aden, a Saudi Arabian state mining company. It is the only mine in the world that uses treated sewer water for flotation. Jabal Sayid commenced commercial production in July 2016 using this technology, with around 55 million pounds of Cu produced in 2018. Link to Barrick's website on this news article on the AMBS technology.
https://www.barrick.com/news/news-details/2016/new-tech-uses-salt-or-brackish-water-to-process-copper-concentrate/default.aspx
"We are one of the only mines in the world that uses this innovative process and, as a Saudi national, I am very proud of that," says Sami Maddah, Manager of Corporate Relations and Business Development for the Ma'aden Barrick Copper Company. "I do think that Jabal Sayid's success with the air-metabisulfate process will encourage other companies to adopt similar mining methodologies."
The AMBS Technology Success
Barun Gorain with Colleagues at the Jabal Sayid copper operations in Saudi Arabia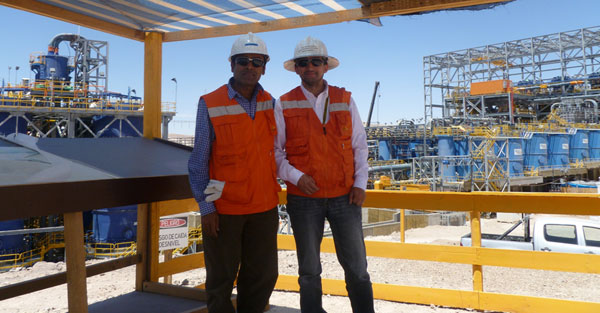 The AMBS Technology Success
Barun Gorain at Antofagasta's Esperanza Operations in Chile
Antamina Copper Operations, Peru

Participated in this exciting journey, leading a Teck & Noranda joint team to assist in optimization of the recently commissioned flagship Antamina Operations in Peru. Focus was on implementing new technologies to improve copper-zinc selectivity, copper and moly recovery. The Metso froth cameras implemented then is still being utilized. Later MicroCel technology was also implemented that improved both copper and moly recoveries Estimated copper recovery improvements were 2 to 3% during 2002-2005. The support of site personnel was instrumental to this success.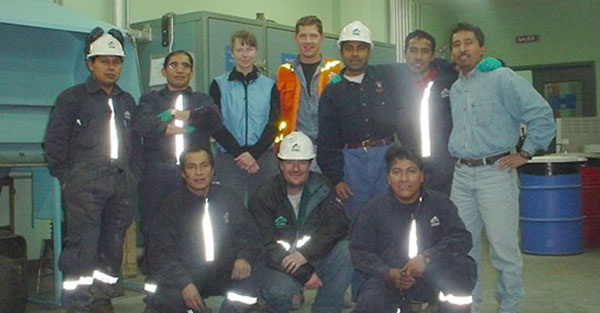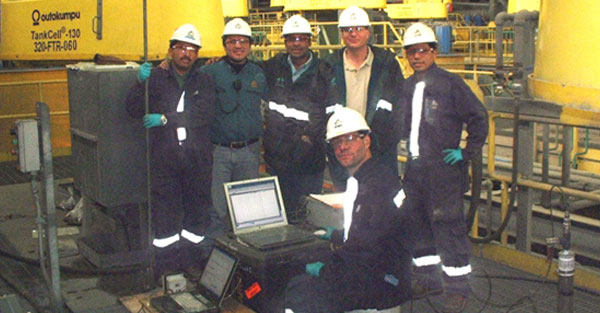 Lumwana Copper Operation, Zambia

With Barrick's acquisition of Equinox mining, a focus on optimization of Lumwana operations in Zambia became a major company initiative and rightly so. Opportunity to lead the various test work and technology implementation involving collaboration from plant operations personnel, AuTec (Barrick's Gold Technology Centre, Vancouver) and external technology providers was an exciting and enriching one. With this joint effort towards building a strong foundation for further development during 2011 to 2014, both copper concentrate quality and recovery improved, and eventually the efforts paved the way to better defining processing of a new ore body. Credit goes to various plant personnel and experts who were part of this campaign to address various challenges.
Highland Valley Copper, British Columbia, Canada
Highland Valley Copper (HVC) worked out to be a significant cash generator for Teck for many decades. HVC showed the way to the world that how implementing new technologies could turn around operations, even very old ones. The pioneering Mine-to-Mill project at HVC during the early 2000's is a great example. It was a privilege to lead a team to HVC during 2000 to 2005, while as a Group Leader of Teck's Mineral Treatment division based in Trail, mainly to focus on optimizing copper and moly recovery. New technologies involving cell hydrodynamics, Microcel, froth cameras and reagent chemistry were implemented resulting in building a foundation for future technology initiatives for plant performance improvements. A strong collaboration with site personnel is always an experience to be relished – win-win for all.