CVMR® is a privately held, metal refining technology provider that is also engaged in mining and refining of its own mineral resources in 18 different countries. The company was established in 1986, with its head office and R & D Centre in Toronto, Canada.
Barun Gorain, (Ph.D, P.Eng.)
Executive Director – Ore2Metal
Vision
Transforming complex ore bodies into sustainable mining operations leveraging domain expertise, digital and social innovation.
Profile
More than 25 years of experience in the mining industry with a focus on operational excellence, growth projects, innovative mining & processing technologies along with digital transformation & automation.
Extensive experience in precious metals (gold, silver, PGM's) & base metals (copper, lead, zinc, nickel). Presently working on various strategic and energy metals (cobalt, lithium & germanium).
Industry experience includes working as Chief Technology & Innovation Officer for Hindustan Zinc, Vedanta Resources in India, focusing on underground mine digital transformation, milling & smelting excellence, building a data-driven collaboration centre and revamping their Zinc Technology Centre to drive breakthroughs in process innovations.
Previously with Barrick Gold in Toronto as a Director of Strategic Technology Solutions focusing on operations optimization, project development and implementation of breakthrough technologies in various copper and gold operations.
Also worked with Teck as their Group Leader based in Trail, British Columbia, to drive plant optimization across their zinc, copper and coal operations along with designing the Red Dog zinc process plant as part of Value Improvement Project.
PhD from JKMRC, University of Queensland & B.Tech in Mineral Engineering from Indian School of Mines, Dhanbad. A key player of AMIRA P9 (world's largest mineral processing project) leading flotation initiatives across Australia & South Africa.
Patented technology "AMBS" now commercially used at Barrick's Jabal Sayid (using municipal wastewater) in Saudi Arabia and Antofagasta's Esperanza (using raw sea water) in Chile for copper and copper-gold processing.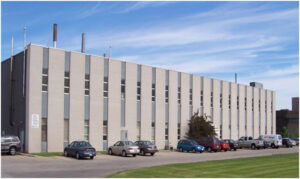 ORTECH
Expertise: Hydro and Pyro Metallurgy Mississauga, Ontario, Canada
http://www.processortech.com/default.php
ORTECH is Process Research ORTECH (PRO) is a privately owned organization serving mining, metallurgical, recycling and chemical industries. Recognizing the need for sustainable development for these industries  the company has expanded to offer its clients  process technologies for economic advantage, environmental stewardship and societal care.
It's internationally recognized technical and business experts with their hands-on industrial and academic experience offer services in product and process development with primary and recyclable materials. Technologies adapted to obtain these solutions include pyrometallurgy, hydrometallurgy, electrometallurgy and mineral processing. These solutions address the needs for recycling and environmental issues. The team with its wealth of experience offers innovative and yet practical solutions for its clients' needs in process development, process compression, evaluation of plant performance, improvement of plant operation and plant modernization.
The technical ream members include Dr. V.I Lakshmanan, Dr. Ram Sridhar, Jonathan Chen and Prof. Alexander Mclean from University of Toronto.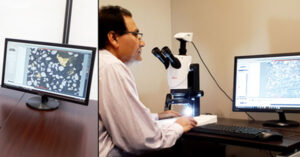 Integrated Process Mineralogy Solutions
Expertise: Quantitative Mineralogy & Metals Deportment Mississauga, Ontario, Canada
https://ipmins.com/
IPMINS is led by Dr. Aparup Chattopadhyay- who is a renowned mineralogist with expertise in quantitative base, precious and minor metals deportment. IPMINS focusses exclusively on quantitative mineralogy for metallurgy diagnostics with an aim to optimize mineral processing and metallurgical plant operations.
IPMINS has developed an innovative quantitative gold, base metals and minor metals deportment methodology in collaboration with various mining companies and global centres-of-excellence involving extensive investigations on various complex ore bodies from across the world.
IPMINS has been assisting many global miners for over a decade, assuring high quality & cost-effective services focusing on metallurgy diagnostics relevant to optimization and design of process plant operations.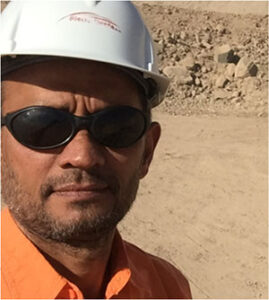 Seshat Consultants

Expertise: Drill/Blast & Mine-to-Mill Brisbane, Australia
Seshat Consultants is led by Dr. Sarma Kanchibotla, who has over 30 years of industrial and research experience in the fields of drilling, blasting and mine to mill process optimisation. Sarma was involved in the development and implementation of mine to mill optimisation concept at several global mining companies around the world, achieving significant improvements in mill performance and energy efficiency. In 2002 Sarma received the AusIMM Mineral Industry Operating Technique Award for implementing the Mine to Mill project. Sarma has also implemented several large projects for Australian Coal Association Research Programme (ACARP) in open pit blasting in coal mines. One of the innovative blast design – called "baby decking" from these research projects has been implemented by several open pit coal mines on a regular basis to reduce coal losses.
Sarma is now working on the Next Generation of Mine to Concentrator technology. The main aim is to achieve a step change in metal production, capital effectiveness, OPEX and energy signatures of the Mine to Concentrator value chain by developing and implementing novel feed preparation methods at the mine and novel comminution, classification and separation processes at the concentrator.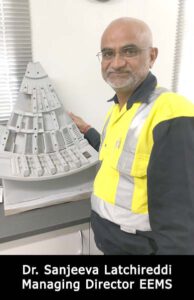 Expertise: Comminution – Debottleneck AG/SAG/Ball mills and provide solutions to operations that are mill-limited to not sacrifice the primary grind (and recovery), and save energy along with OPEX for operations that are mine-limited.
Dr. Sanjeeva Latchireddi is the Managing Director of EEMS with over 25 years of experience. Sanjeeva is one of the world's top comminution experts and an inventor of a novel pulp lifter with many commercial applications across global milling operations, achieving significant improvements in mill throughput and energy savings. He is recipient of AusIMM Mineral Industry Operating Technique Award in 2004 for invention of novel pulp lifter and its successful implementation in grinding mills.
EEMS is serving the mineral processing industry with guaranteed deliverables across a wide range of commodities using its patented and industrially proven technologies, to increase throughput of milling circuits, to optimize energy consumption and reduce OPEX for improved productivity and grind size.
EEMS's Holistic modeling approach utilizes its proprietary models to identify bottlenecks related to Energy Spectra, Transport and Particle Breakage processes, and recommends and integrated solutions to ensure efficient milling conditions to achieve maximum grinding in AG/SAG and Ball mills.
The company leverages the skills and in-depth knowledge of its founders, proprietary modelling tools (FlowMOD®) and experience to measure, model, design and supply performance enhancing patented discharge systems (through VEGA Industries Ltd) to debottleneck AG/SAG and Ball mill circuits.
Surface Science Western
Expertise: Mineral surface characterization London, Ontario, Canada
https://www.surfacesciencewestern.com/about/our-team/
Dr. Stamen Dimov and Dr. Brian Hart – senior research scientists – from Surface Science Western (SSW) have been instrumental in providing expertise in mineral surface characterization to various global mining companies including Barrick Gold. SSW provides a variety of analytical services to the mining industry related to the discovery, characterization, and processing of valuable minerals. Some of the areas SSW has established itself as a "go-to place" for analytical services within the mineral processing sector include:
Determining the concentration and distribution of precious metals at low concentration levels (ppm-ppb range) in various mineral phases
Surface chemistry in relation to flotation selectivity: flotation scheme optimization and process control
Extraction technology: issues involved with sulfide oxidation in autoclaves and gold losses during leaching in response to preg-robbing by in situ organic material
As a consulting and research laboratory, SSW is also actively involved in research and development for the mining industry. Part of their mission is to work together with research partners from the mining industry to develop new applications and commercialize them as routine diagnostics tools.